The benefits to installing an irrigation system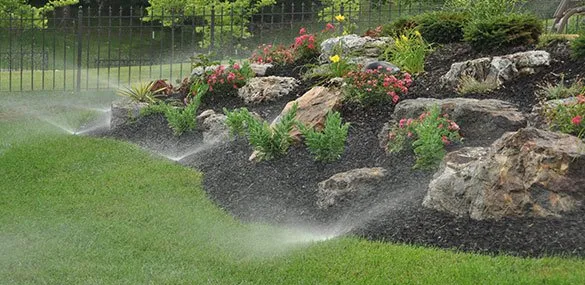 You might think that an irrigation system is more expensive or more of a hassle than you want to take on in return for a healthy and beautiful lawn. Since we tend to see sprinkler systems at managed properties, fancy retail spaces, and golf courses, it's easy to understand why you would have that impression. But there are plenty of irrigation systems that will make your lawn care more efficient, economical, and effective.
How can irrigation improve the look and health of your lawn? It takes a lot of planning, work, and commitment to get your lawn on a watering schedule if you try to do it yourself with a garden hose. Even if you rearrange your schedule and make watering your lawn a top priority, you'll waste water and cause other problems in the process. Irrigation is an easy way to avoid those problems.
Irrigation systems are an easy way to put your lawn care on a set schedule that you can adjust over time to take advantage of seasonal changes. When you invest in a high-quality irrigation system, you'll see the benefits in the beauty and health of your lawn but you'll also notice a difference in your utility bills, property value, and more. Read on to learn more about the benefits of an irrigation system for your lawn.
5 Reasons to Use Irrigation to Get a Better Looking and Healthier Lawn
If you think that an irrigation system is too expensive, too wasteful, or just an ineffective use of your resources—you've been talking to the wrong people. Below we discuss the things that make an irrigation system environmentally friendly, economically cost-efficient, and effective in a number of important ways.
#1 – Irrigation is More Environmentally Friendly Than Watering Your Lawn by Hand
There are a number of factors that go into making your watering program as efficient as possible. An efficient watering program conserves water where other approaches will waste it. By setting up sprinklers or drip irrigation in an organized fashion you'll get better coverage and more even distribution. You'll also be able to set your system to water the lawn at the best times of day to improve absorption and maximize the benefits.
A systematic approach to irrigation will help you conserve water without sacrificing your lawn in the process. That's one of the most important ways that irrigation will help you create a more environmentally friendly household. But the healthier lawn that you get from irrigation pays off in environmentally friendly dividends as well.
A healthy lawn does a better job of converting CO2 to oxygen and it can absorb more toxins and greenhouse gases out of the air. It will also have a healthy root system that will help to prevent soil erosion. Finally, a healthy lawn does a great job of absorbing and dissipating heat from the sun. That will make your whole property cooler and help cut down on the amount that you run the air conditioning.
#2 – Irrigation is More Cost-Effective Than Watering Your Lawn by Hand
An irrigation system will make sure that your lawn watering program accomplishes more with less. You'll get better coverage with less overlap to cut down on wasted water. You'll be able to set the time to water the lawn at the times of the day when your lawn will get the most out of the water it receives.
If you really want to stretch your lawn care dollar, you can even use rain barrels to feed a drip irrigation system. Not every municipality permits rain barrels, so be sure to check local regulations before you get started on a project that involves them.
In addition to cutting down on your utility bills, an irrigation system can also add to the property value of your home. So, it will save you money while you live there and help you get more when you decide that it's time to sell. That's a win-win in our book.
#3 – Irrigation Will Deliver Benefits That You Can See
The aesthetic benefits of a healthy and beautiful lawn pay off in so many different ways that it's hard to count them all or add up the sum of their parts. A beautiful lawn is great for your property value and it will make spending time outside more enjoyable for you and your family.
If you appreciate the importance of a beautiful lawn, then you probably make other investments in it throughout the year. Seed, weed killer, aeration, and other investments help to keep your lawn looking its best. But if you don't give your lawn the water that it needs, you'll be getting less of a return on those other investments than you deserve. Regular, efficient watering is the final piece to your lawn care puzzle.
#4 – Irrigation is More Convenient Than Watering by Hand
Let's face it, having a beautiful lawn is important but most of us just don't have the time in our days or the flexibility in our schedules to do what we would need to do to get it right by hand. That's what makes an irrigation system so convenient. Once it is installed, you'll be able to set it and forget it. As the seasons progress and your yard's needs change, you'll be able to change settings instead of changing your schedule.
#5 – Irrigation Helps to Fight Weeds, Fungi, and Plant Diseases
Because you can target specific areas of your lawn, you can use an irrigation system to make sure that grass and other plants get all of the water they need to thrive while simultaneously cutting-off the supply to weeds, fungus, and other undesirable intruders. Whether you use sprinklers to broadcast the water, drip irrigation to target the root system, or some combination of the two—you'll love the level of control that an irrigation system gives you.
Get Great Advice and Expert Assistance on an Irrigation System for Your Home
When you call Taussig Landscape, one of our landscape design experts will be happy to answer all of your questions about irrigation options that fit with your home's landscaping. Let us show you why we're the first call when it comes to expert landscaping advice and service.