Are You Stuck at Home? You Might as Well Enjoy the View!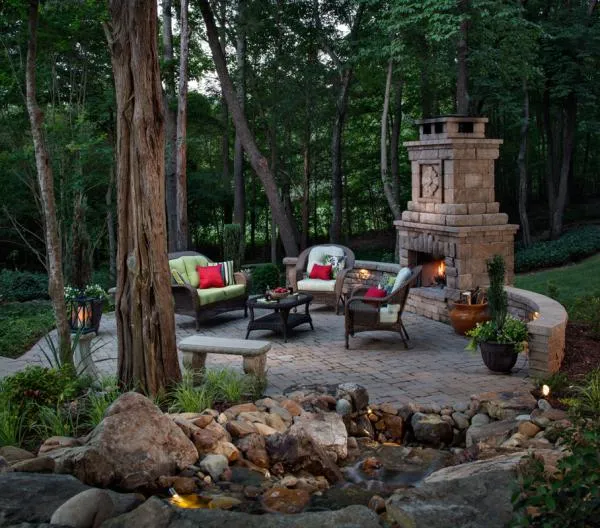 This is the time of year when many of us head out into the yard to get started on DIY landscaping projects that will make our property look great through the summer and into the fall. Of course, this year hasn't been like other years and there is a chance that the changes we've seen could last well into the summer. How can your landscaping plans for this year help you make the best of it?
How can landscaping make being stuck at home more enjoyable? Being stuck at home doesn't have to mean being stuck inside. Landscaping projects are a great way to make being in the outside spaces around your home a relaxing getaway from the cramped quarters and bad news on the television. Even if you are stuck inside, landscaping can improve the view in ways that will brighten your days.
Being stuck at home is a great excuse to get rolling on DIY projects that you were struggling to find the time for. This is also a great time to support a local business and the local economy by moving forward with an idea that calls for professional landscapers. Anything that you can do to beautify your surroundings is worth looking into as we find our way through a spring defined by unique challenges.
Landscaping Tips to Make Being Stuck at Home More Enjoyable
There's nothing better to make you appreciate the beauty of the outdoors than being stuck indoors. Maybe you've caught yourself thinking about the scenic beauty of your morning commute as you make your way to your kitchen table to start your work for the day. Maybe you're missing the carpool to after school practice while your kids go stir crazy from being cooped up indoors.
In times of uncertainty, one of the best things that we can do is adapt to the changes and then move forward in ways that deliver the best balance of what we want and what we need.
Landscaping projects can be a great way to spend time outdoors getting exercise in the short-term and they'll pay-off in a more enjoyable view over the long-term. To get it done right now, you have to think about the big picture and make good decisions about what to work on and how to get the work done.
Enjoyable Views Begin with a Look at the Bigger Picture
We know that the uncertainty of the current situation has forced many families to take a hard look at the plans that they've made for their disposable income. Everything is shut down and nobody seems to be too sure when it will start coming back or how quickly things will return to normal once it does. But a small investment in landscaping on your property can pay off in big returns to your family's enjoyment of their time at home.
The big picture items that you need to consider when you're thinking about landscaping projects that will make being stuck at home more enjoyable include the budget but they should also factor in what kinds of projects are right for this time of year. Whether or not you are able to get the supplies and materials that you need to do the job is worth looking into as well.
Could a day or two worth of hard work in the back yard deliver lasting results that will make your outdoor space more enjoyable? Is it something that your family can work on together to help relieve the tension of being cooped up? Can you get the supplies at a local home and garden center that is still open? If not, can you order the supplies and have them delivered so that they're ready for you when the weekend comes?
Weighing the Pros and Cons of DIY vs. Professional Help
We've been seeing a lot of stories on the news about how people are finding creative ways to support restaurants, artists, musicians, and other members of the community that have been hit hardest by the current situation. Of course, we all feel the pride and appreciation that people have been showing the heroes who work in healthcare and other essential services.
Landscaping contractors are part of the local economy that are ready, willing, and able to go to work right now. Depending on the guidelines in your area and the type of project that you want to have done, this might be the perfect time to put your plans for a bigger project in motion. If your budget permits and the stay-at-home orders in your area allow it—reach out to a professional landscaper to get a project crossed off of your to-do list.
Whether you're buying supplies for a DIY project or bringing in professionals for a bigger job, you'll be helping out the local economy. What you get in return is landscaping that you and your family will enjoy while you're stuck at home. You'll be able to continue enjoying those benefits for a long time into the future.
Make the Most of This Time
One way to approach the current situation is to hunker down and ride it out. But there's no way to know how long this will last. A few days or a couple of weeks can be a long time to put everything on hold and just wait for things to go back to normal.
Investing some time, money, and energy in your landscaping right now will provide both a temporary diversion that you can measure in good days and fun memories and a long-term benefit that you and your family will continue to enjoy long after this is over.
For More Information on Professional Landscaping for Your Home,
Taussig Landscape is the trusted experts when it comes to designing, installing, and maintaining breathtaking landscaping for your home. When you call us, we'll answer all of your questions and one of our landscape design experts will work with you to put together a plan that matches your vision and your budget. Let us show you why we're the first call for local homeowners who need professional landscaping advice and assistance.