Ways to enhance your front curb appeal!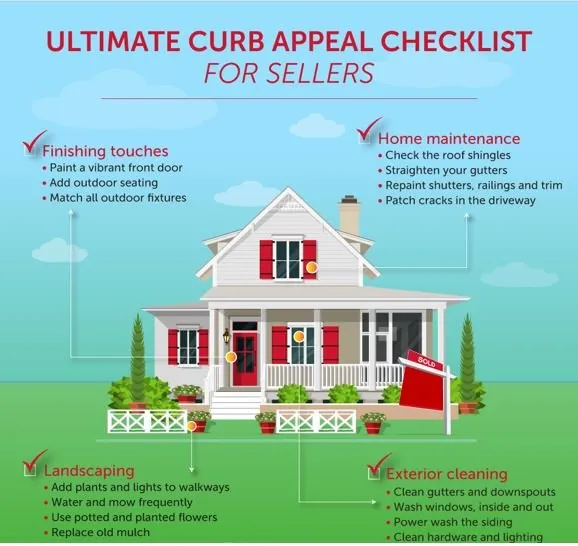 Needing to add some curb appeal to your home? Here are some simple ways you can spruce up your house on any budget!
Have a Clear Path
Remember that the path to your front door should be immediately visible from the street. This will draw people's eyes towards your home and give it an inviting feel. When lining the walkway with plants choose something low-growing. Also, stay away from larger trees or shrubs that will make guests feel enclosed. You can switch things up by replacing your concrete walkway with pavers, stepping stones or maybe bluestone treads.
Plan a Focal Point
Be aware of not doing too much when designing your new landscape. Properties with great curb appeal should involve an element that catches the eye of people passing by. This could be an ornamental tree or shrub, garden feature or the home itself. It's important that all of the other things making up your landscape supports the main focus – not take away from it. Utilize various elements to create a pattern that will be natural looking and pleasing to the eye.
Coordinate Colors for Curb Appeal
If your home is a neutral color, or has natural colored stone or brick, plant colorful plants. Make sure to stick to a limited color pallet, as too many colors can be overwhelming. One of the best ways to enhance your curb appeal is to add a few accents. You may also consider adding a more permanent pop of color by adding color to shutters or doors. If your home has a lot going on out front you may want to try sticking to neutrals that complement the home's color scheme.
Don't Forget the House
Design a landscape that is appropriate to your home. Size, color and lawn size should all be considered when planning your new landscape. If you have a one-story house you may want to consider using lower to the ground trees, shrubs and other plant material that won't dwarf your home. Sometimes less is more.
Consider Budget and Maintenance
It is a good idea to make a budget for your project. Creating this in the beginning can help prevent you from having to go back and remove items from your design. Remember to give yourself a buffer, just in case prices change or you run into unplanned issues.
This is also a good time to take maintenance into consideration. If you don't plan on having the time or know how to keep up with your landscape, make sure to select low-maintenance trees and shrubs. This is a good way to ensure that your plants will look good year-round.
Need Help Getting Started?
At Taussig Landscape, we help our clients re-imagine their property's landscape through design, installation, hardscaping, edging, mulching, trimming, irrigation, and lighting. Our landscape service team – made up of highly trained, and skilled workers – is committed to high-quality workmanship and customer service. Our landscape team will help you maintain your landscape and transform your dreams into a reality. Contact Us for a free consultation!