Bring life to outdoor spaces after dark with the right combination of lighting pieces.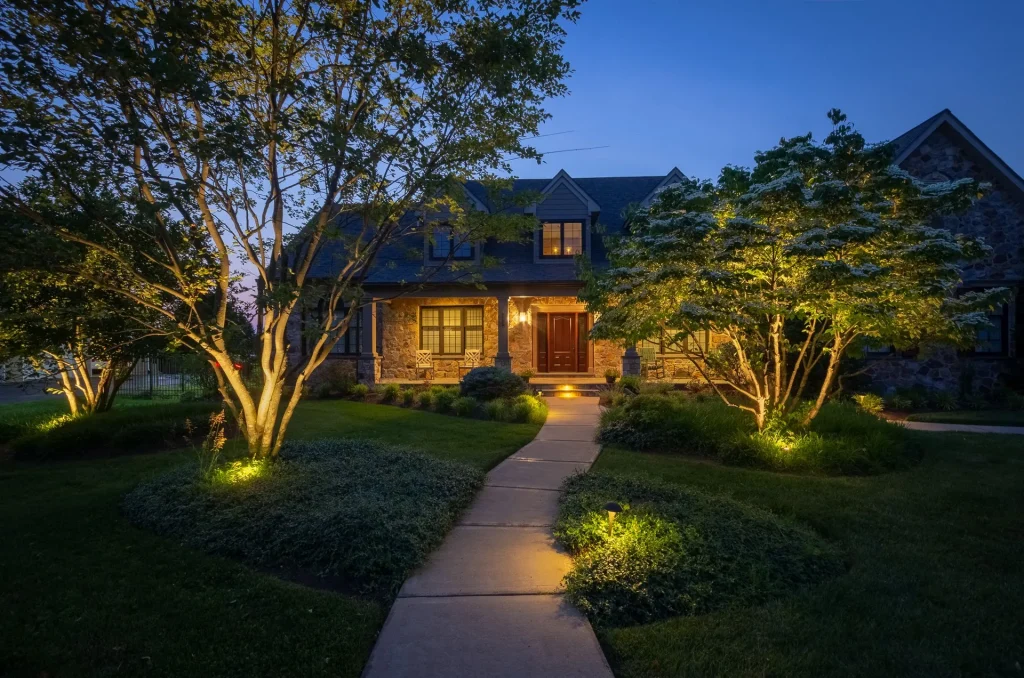 Landscape Lighting: A Good Idea for the Dark Winter Months
Looking for a way to make your home brighter this winter? We can provide a variety of options to illuminate different features of your property with amazing results!
Landscape lighting will definitely add value to your home. A recent survey found that 90 percent of homebuyers chose outdoor lighting as one of the most desirable exterior features of a house. In addition, the value of your property can increase by as much as 20 percent by adding landscape lighting. If you are selling your home, a beautifully lit walkway and soft lighting on your plants in the yard will attract buyers to your home and set your house apart. You can also use subtle lighting on your door if it is unique and this can be a showpiece for interested buyers
Where should Landscape Lighting be Placed Around a House?
Here at Taussig Landscape we can provide you with countless possibilities on how to illuminate areas around your home. Here are a few ideas:
• Highlighting: Placing a light at the base of an object you want to feature such as a garden trellis or statue.
• Silhouetting: Light from behind a landscape feature onto a wall or fence.
• Shadowing: Using soft light to create multiple shadows of trees or bushes on a wall.
• Washing: Flooding an area with light – Most often used on walls or rows of shrubs.
• Up-lighting: Lighting an object from below.
• Down-lighting: Hanging a spotlight above the ground and pointing it downwards to highlight a plant, object, or area.
• Moonlighting: Placing lights in trees for a soft natural effect.
• Path Lighting: Lighting a path especially near steps.
What Features should Landscape Lighting Emphasize?
We often emphasize the importance of highlighting the following features when planning your lighting:
• Buildings: The height of the house will determine the amount of lighting needed. You can place lights low towards the ground, or high above, depending on the preferred effect.
• Trees and Bushes: You may need multiple lights for densely planted trees. Shrubs and bushes may only need a section of lighting.
• Flower Beds: Low voltage lights allow just enough light to show off the beauty of your flowers.
• Lawn Decorations: You can highlight any unique features such as statues, flag poles, birdbaths, etc.
• Fences and Pathways: To light a clear path or highlight flowers along a wall.
• Patios & Decks: By keeping these areas well-lit, you can enjoy more quality time reading or socializing with family into the evening hours.
Swimming Pools and Ponds: Important for safety reasons, lighting also allows you to enjoy the natural beauty of fish and waterfalls.
What is the Best Outdoor Landscape Lighting?
The best landscape lighting is the low voltage which is safer and less expensive to install. They can provide a range of interesting effects from a moonlight effect beamed down from a tree canopy to a soft glow illuminating a low garden wall. You are choosing quality products and professionals experience in the artistry of highlighting the unique features of your property. You want to install a system that is exactly what you want, that is beautiful, capturing and functional for years to come. Contact Taussig Landscape for a free lighting quote.